---
For Better Experience And More Fetures Download Learn Finite App From Google Play Store
10000

+ Download Google Play
Scrub Typhus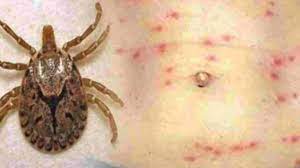 In News

Odisha is reeling from two disease outbreaks --Scrub Typhus and Leptospirosis--which have killed six people in the state so far.
Scrub Typhus
It is caused by a zoonotic rickettsial bacterium called Orientia tsutsugamushi, which is transmitted to humans through the bites of infected chiggers (larval mites).
Mites carrying the disease are generally found in the bush, jungle and paddy areas, so the disease is also called jungle or bush typhus.
The symptoms of scrub typhus commonly include fever, headache, body ache and sometimes a rash.
The chiggers that transmit the disease generally live in low temperature and high humidity conditions.
A 2022 study looked into clustering of scrub typhus cases in South India, found temperature, humidity and rainfall had a major role in the incidence of scrub typhus.
A 2017 study looking into scrub typhus cases in China also found that a 1°C increase in mean temperature was associated with a 3.8% increase in the odds of scrub typhus cases during the same week.
Source- Live mint