For Better Experience And More Fetures Download Learn Finite App From Google Play Store
10000

+ Download Google Play
Surya Nutan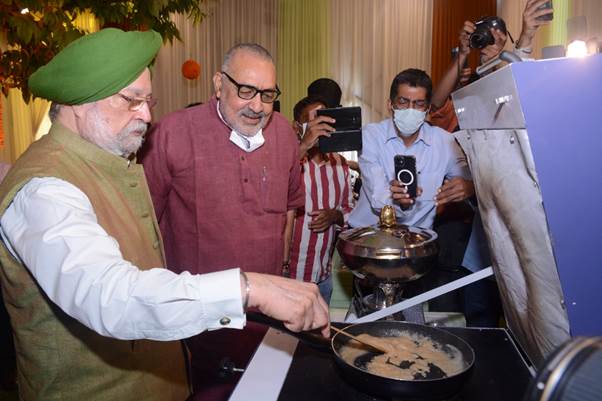 In News

Features
Surya Nutan is a Stationary, rechargeable, and always kitchen-connected indoor solar cooking.
This is a patented product designed and developed by IndianOil R&D Centre, Faridabad.
It offers online cooking mode while charging through the Sun which maximizes the system efficiency and ensures high utilization of energy from Sun.
It works on a Hybrid Mode (i.e. can work on both solar & auxiliary energy source simultaneously) which makes the Surya Nutan a reliable cooking solution for all weather conditions.
Insulation design of Surya Nutan minimizes radiative and conductive heat losses.
Surya Nutan is available in three different models: The premium model (Breakfast +Lunch+Dinner) of Surya Nutan can cook all the meals for family of four.
Initially, cost of the product is around Rs 12,000 for base model, and Rs. 23,000 for Top Model.
Surya Nutan

can be used in all weather and seasons including when the Sun is not available for long durations or for continuous days, such as monsoons and extreme winters.
Surya Nutan

is a modular system and can be designed in different sizes as per the requirement.
Significance
Surya Nutan has the potential to transform our energy security situation, as India currently imports 50% of its LPG requirements.

It also reduces India's CO

2 emissions drastically and keeps our citizens insulated from the vagaries of the high international fossil fuel prices.
Other Initiatives
'Surya Nutan'

follows series of other steps being taken by the Ministry of Petroleum & Natural Gas in the current global energy crisis, including increasing ethanol blending to 20%, increasing procurement price of Compressed Bio-Gas under SATAT Scheme from Rs 45/kg to Rs 54/kg, drastically increasing the area under Exploration and Production to 15% of geographical area from current 7-8% and aggressively pursuing Green Hydrogen Mission in our refineries.
Source- PIB